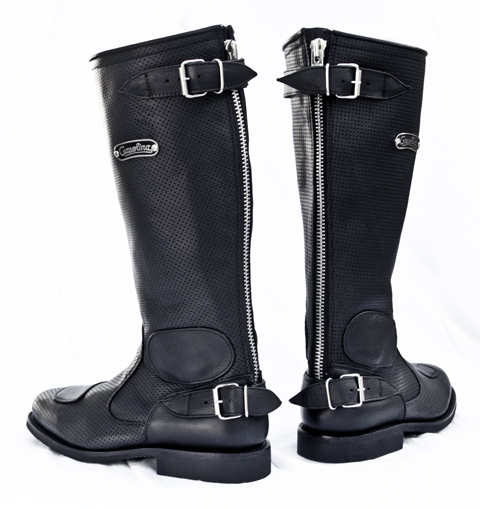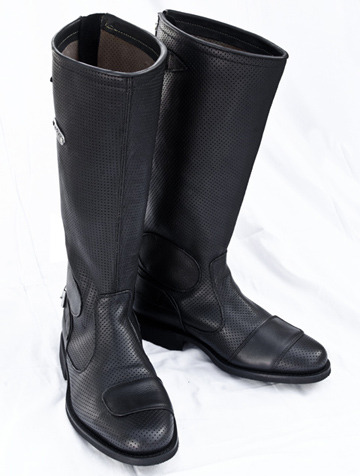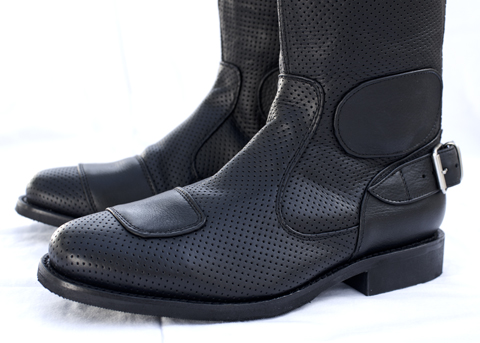 Our Classic boot – Air Conditioned!
The Gasolina Typhoon boot with all the looks, style, and protection of our Classic boot, but ventilated inside and out. At speed air will flow right through the leather, cooling your feet and legs, while offering protetion from road hazards and hot pipes. Even when you are stopped, the boots are cooler, with incredible "breathability" allowing sweat to evaporate. These boots certainly aren't waterproof, but they do dry quickly if you get caught in a summer shower.
50 tiny perforations per square inch. (10 per square CM)

Black leather with black stitching for a sleek look

Natural-rubber sole, for excelent grip and traction.

Top-grain, natural leather. Vat dyed so the color permeates the leather, resisting scuffs and wear.

Normal, non-perforated leather in high-wear areas.

Completely lined in glove-soft leather – also ventilated.

Our boots have a soft leather flap that runs the entire length of the zipper, protecting your socks, pants, and skin.

Measures 15″ – 38cm from the ground up.
The Typhoon is available in the same multitude of sizing options as our Classic boot.They are available in US men's sizes 5-14, in narrow (B), medium (D), and (E) wide widths. We can make sizes 6 – 13 in EE widths.
All our boots take about 3 weeks to make and have ready to ship.
If you need them in a hurry please contact us before ordering
– we may have your size in stock.
$269
+ shipping